Hunting
We work exclusively with R & S Guide Services of Perham, Maine. Whether it is the prime bear or moose hunt, snowshoe hare or partridge hunting, Russ Reed and John Swenson are the guides for you.

Russ and John believe in the outdoor sports tradition and strongly believe in passing it on to the younger generation. Kids are the future of hunting and at R & S Guides, they strive to provide a positive experience for all their hunters, but especially the young hunters.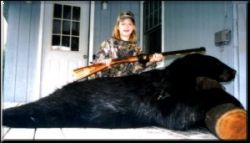 Let Russ and John guide you in your next outdoor adventure, while enjoying your lodging here at Caribou Cabins. Your fee for your lodging is included with your price from R & S Guide Service. Visit them on line at R&S Guide Service or call 207 455-4487.